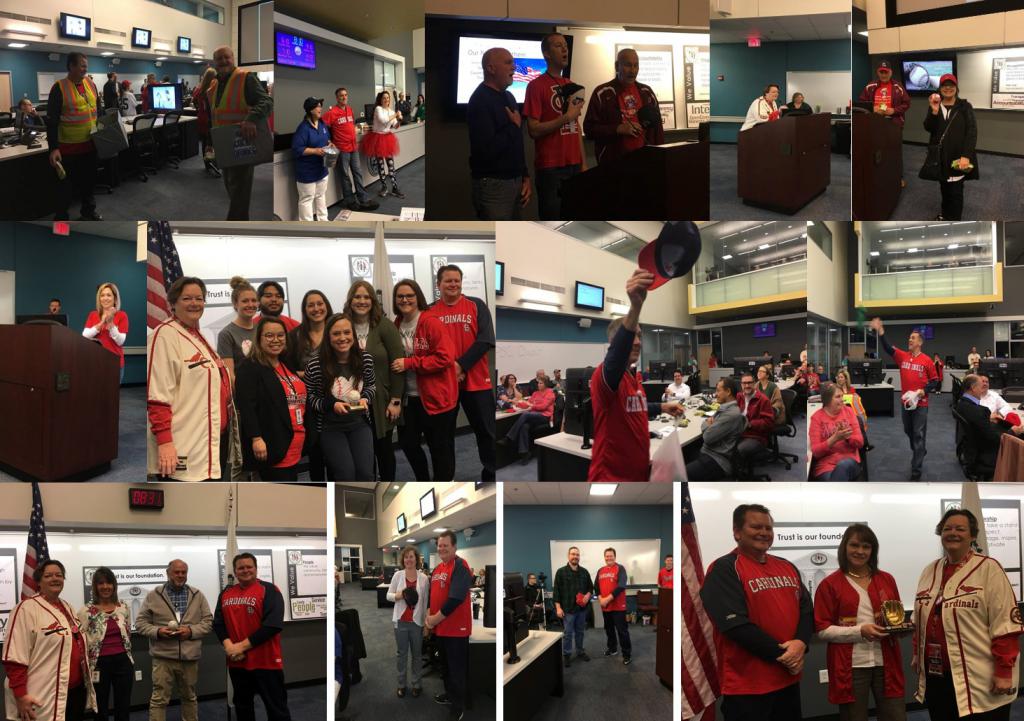 Recap of this week's Huddle
Employee's came into the Great Game of Huddle for "Take me out to the Ball Game" theme by the Concessions Stand Team Mates. They were all given a Treat Bag with Bubble Gum, Cracker Jacks, and a small miniature baseball bat.
Justin Hill started the Great Game today by introducing the National Anthem performed by The Courthouse Trio.
Inning 1 – The First Pitch
Intro by Cindy Stein
Our Great Game Coach: Rhonda Chapman
2nd Inning
Special Thanks:
Great Game of Business
Commission
Finance Offices: Budget, Auditor, Treasurer
Connie Hayes, Auditor's Office
Tracie Nicholson, Juvenile Office
Penny Griffin, Treasurer's Office
3rd Inning
Highlights Video
(Show case of events that occurred in 2018 and a special moment for Aaron Roberts)
4th Inning
Presented by Crystal Richard, Road & Bridge
All-Star Award: Energy and participation at Huddle Meetings
The Human Resources Team
5th Inning
T-Shirt Toss
Incoming Call
T-Shirt Toss Giveaway
6th Inning
Presented by Angie Crews
MVP Award: Highest Participation at huddle meetings
MVP "Iron Man" to Michael Crawford
The Assessor's Office
7th Inning (Stretch)
Take me out to the "Great Game"
What goes around comes around
Buy me a book by the Great Jack Stack
I don't care if it's in paperback
For we root, root, root for the whole team
Cuz' we all "Gotta Wanna" the same
For it's 8, 9, 10 Higher Laws in the old Great Game
8th Inning
Door Prize Drawings:
Bobblehead – Dexter Fowler
St Louis Cardinals Youth Baseball Glove
2 Tickets to the Springfield Cardinals
2 Tickets to the St. Louis Cardinals
9th Inning
Grand Finale – Best Projection Award
Recorder of Deeds