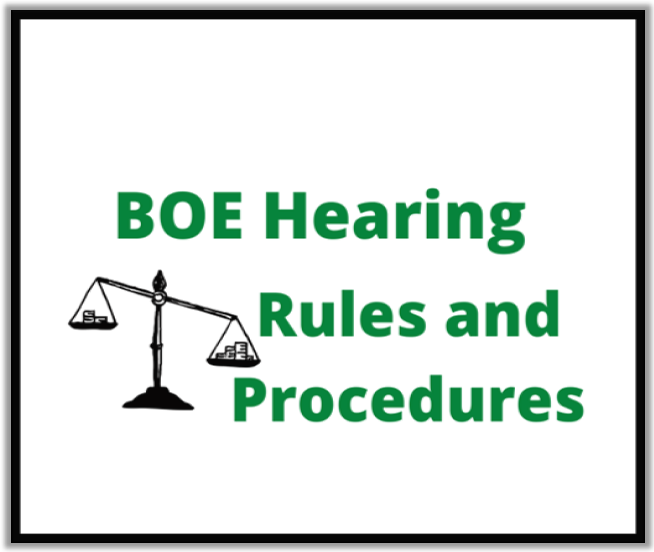 click above
Board of Equalization
---
The County Clerk serves as a non-voting secretary to the Board of Equalization (BOE). The BOE is a panel of citizens that hears appeals each summer (between July 1st and the last Saturday of July) brought forth by taxpayers regarding their county real estate and personal property assessments. The Board has the authority to decrease, increase, or not change these assessment values based on the facts presented at the hearings. The Board also meets monthly to certify corrections to erroneous assessments.

Requests for appeal to the Board of Equalization must be made in writing and received by the County Clerk on or before the second Monday in July.

All Appellants or their representatives are required to appear in person before the Board of Equalization for their hearing, unless the appellant and representative, if applicable, qualify for a COVID-19 related medical exemption. The Board will only extend a COVID-19 related medical exemption for those who: are sixty-five years of age or older; live in a long-term care facility licensed under chapter 198 of the Revised Statutes of the State of Missouri; have chronic lung disease or moderate to severe asthma; have serious heart conditions; are immunocompromised; have diabetes; have chronic kidney disease and are undergoing dialysis; or have liver disease. The Board of Equalization requires any person qualifying for a medial exemption to give sworn or affirmed and notarized notice of their qualifying condition(s) to the County Clerk on or before second Monday in July. The declaration form for this exemption can be found in the list of documents below.

Appeals to the Board of Equalization may be eligible for a de novo review by the State Tax Commission if the taxpayer does not feel, after their local hearing, that the decision of the BOE is in line with the fair market value of the property.